Our Solution
Not all travellers are the same. Personalisation and tailor made offering is key when comes to address a customer decision in the travel field.
-
We created a microsite that feature video footage captured y drones of the land, sky and sea of the Hawaiian archipelago.
With the viewer's permission, custom-built facial recognition software identifies which footage evokes the most positive reaction from the viewer.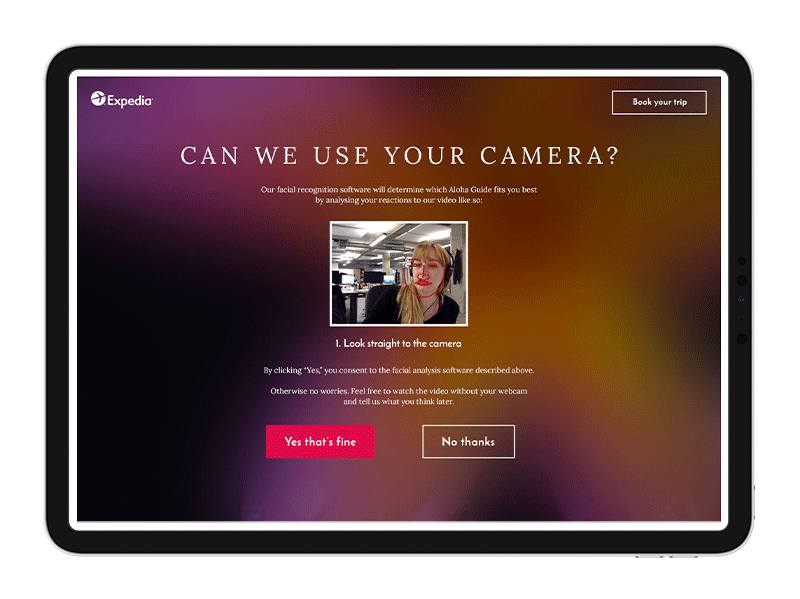 Meet your Aloha guide
The microsite features video content of the land, sea and sky showcasing the beauty and spirit of Hawaii.
The algorithm identifies the personal preferences of each viewer and pairs them with their 'Aloha' represented by an animal guide of significance to Hawaiian culture: 'Iwa (Bird) Hawaii's all-knowing guide; He'e (Octopus), Hawaii's loving spirit; or Pua'a (Pig), Hawaii's bold adventurer.
Find your path
We developed a second, more traditional path to discover your Aloha by simply taking the user into a scenic discovery of all the activities available on the islands, and asking them, is this for you.
The Result
The result is a personalised beautiful landing page that carries the spirit of the Aloha guide and help the user navigate through the many activities and a 115:1 return on Ad Spend and was nominated for a Webby Award in the tourism & leisure category.